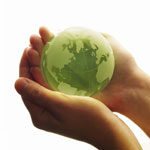 Sustainable Earth® Commercial Cleaning Products
From replacing synthetic materials to letting the sun shine in, cleaning up a toxic workplace is easier than you think. Learn about greening your cleaning agents in our feature article in BusinessWeek.
All of our products are designed to promote sustainability through:
Performance – Our products perform as well or better than leading national brands of conventional products in the same category.
People – Our products meet the highest international and domestic standards for health and safety.
Planet – Our products are based on sound science, independently tested and third-party certified to comply with the strictest environmental standards.
Developed around a core of four products Sustainable Earth® commercial cleaning products can meet all your cleaning needs from the washroom to your floor care system simply and effectively. Or, work in conjunction with our sales consultants to find a comprehensive solution that works best for your business.
Whether your need is large or small, Corporate Express has the solution to take care of your every facility need.